Dental Implants Las Vegas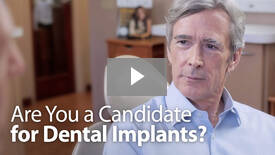 A dental implant is a tooth replacement option that is directly inserted into your jawbone and does not need to be removed for cleaning like a
dental bridge
. A dental implant is a permanent tooth replacement that is formed and colored to match your natural teeth. The dental implant replaces your tooth root and a
porcelain crown
is screwed onto the implant to replace the tooth.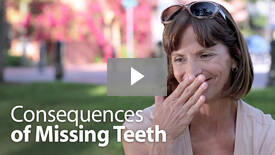 Dental implants create a stronger replacement tooth because the tooth and the tooth's root are replaced. They last a lifetime and are more durable than other tooth replacement options. This is a great option for one or several missing teeth and they can be placed in the upper or lower jaws to strengthen your smile.
Dental Implant Benefits
Dental implants replace missing teeth or teeth that are decaying or cracked and cannot be restored. As with many cosmetic dentistry procedures, dental implants have many benefits.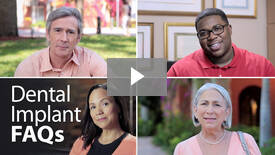 Dental implants look, feel, and act like natural teeth
The care for them is the same as your natural teeth
They prevent your jawbone and gum line from shrinking or collapsing due to the space of missing teeth
Dental implants are permanent and do not need to be replaced
They can be replaced if damage occurs
There is no need to take them out as with dentures
They don't shift or slip with eating or speaking
They prevent bone loss and keep the youthful shape of your bone tissue
They are not noticeable and they blend with your natural teeth
Dental implants may last a lifetime.
The Dental Implant Procedure
The porcelain crown that acts as the tooth replacement will be color matched to look like your natural teeth by Las Vegas Cosmetic Dentist. The replacement tooth will look, feel, and function like your natural teeth and be similar in shape and color.
Dental implants available through Las Vegas area dentist
A concern for some Las Vegas area patients is tooth loss. There are a myriad of reasons why patients in the community may be dealing with the loss of one or more teeth. Decay can cause a tooth to become weak and infect the inner portion of the tooth. If root canal therapy cannot save this tooth, extraction may be necessary. Some patients may have to have a tooth removed because of a failed root canal or due to periodontal disease. Others may experience tooth loss due to impact to the mouth. Whatever the reason for the loss of a tooth, it is essential that patients speak with their dentist about replacement to ensure proper function, beauty, and health of the smile.
Las Vegas area dentist, Dr. Matthew J. Wilson works with patients to determine the best course of action for repairing the smile. For many of his patients, dental implants are the restoration of choice. Dental implants are titanium posts that the dentist surgically places into the bone of the jaw to act as a natural tooth root. It is then restored in a variety of ways. A single tooth can be replaced by restoring the dental implant abutment with a dental crown. The dental implant may also anchor down a dental bridge or stabilize a full denture and avoid the need for adhesives or natural suction.
Dental implants have a place in cosmetic and restorative dentistry. They are often chosen because they last a lifetime and require minimal care and attention compared to alternative solutions. Dental implants do cost more at the time of placement but can last a lifetime—holding their value better than any other repair.
Dr. Matthew J. Wilson is a Las Vegas area dentist who is committed to assisting others in the area in achieving beautiful, fully functional smiles. Contact his practice today by calling (702) 331-4700 and speaking with the front office team to schedule a consultation appointment and initial examination. We welcome new and existing patients ready to get the smile of their dreams once and for all!
To schedule an appointment with the top provider of dental implants in Las Vegas, call (702) 331-4700 or Click Here today.